Jâçkal Vur

MALLEUS * SEETHER * FIRE * SCRAWL * SUMMONER

----- 

Invitation
He sat in the center of a small collection of runes.  Ancient script enhanced these grounds to an environment of magical cataclysm.  The power radiated around him. A
thrum
in his paw-pads, a mist upon his fur, pressure on his skin.  Satisfying.  Invigorating. Jackal quivered as moonlight spilled across his back.  The old curse from Lune still persisted in his system.  On a night such as this, when the moon was full and void of course, his heart ran quick and blood hot.  A sensation of replenished energy to entice his boiling anticipation.  Time slipped away from his attention until the course of silver light was tangible.  Winter night deepened, a bitter edge thriving on each restless gale, foreshadowing another dawn of heavy snow-fall.  Ah, but before the sun re-appeared, he would complete his craft.  With a deep inhale, Jackal unleashed a bass howl designed for only the ears of one.  Telepathy trailed like star-dust in its wake:
My friend, my apprentice, come view that which shall soon be yours for eternity.
Physics
The concept came to him when Mordecai revealed the dismal truth of a spectre's kinectic capabilities upon this plane.  This seed was immediately planted in the jungle soils of Jackal's mind.  Left to grow in silence and time.  Jackal exhaled, submitting himself to view the fruit of this sprouted idea, and began his craft with
Seether
.  Energy churned in his gut as voided shapes drug to his hulking form.  To his left, his Lantern radiated an indigo flame that did not interfere with the cluster of black between his front paws.  His nose dipped closer, temperature dropping as he came near so his breath cast mist into the mass of shade.  Every inch of his body was attune with focused adrenaline.  Endorphins rushed at the swell of power within him, ready to birth that which the mad blind-wolf considered a god.  Joy, as Jackal understood it. 
Magick of this type was felt as fire through specific nerves, kinetics interacting with his auras to comprehend dimension and shape.  Difficult to maintain a link between the designs of his mind and the physical reality being shaped.  Persistant will cultivated connection between the two, allowed him the satisfaction of overcoming his blindness just enough to satiate the glory in concept. With Malleus, Jackal altered atoms of the shadows just enough to allow a molecular attraction in the smokey spires now twirling into shape.  Left ear flicked. Smoke lured from his own Lantern mingled with seether shadows.  Though done for the purpose of utilizing the Elder Lantern's substance as a manner of induction, the haze added a layer of physical dimension Jackal could not see. 

Weight struck the antler bound to his tail. Careful claws Brother. Raven teased.  Wolf gave a flickering smirk.  Lifting a left claw, Jackal moved for where the pulse of magic was at it's greatest, and began to Scrawl runes of binding. Soul-Shadow continued to guide this intimate aspect as Jackal's cobalt tipped claw continued incantations across seven surfaces.  Some flared sapphire and dissappeared, while others remained hollow until elements fused with Lantern shell. Only one can I give you now.  The Acerbus was uncertain whether a true candle could sustain for Mordecai's needs.  Instead, he found alway to allow Fire to uphold a shape of gold candle wax and blue flame.  Heat billowed from Jackal's maw.  Embers wisked from Jackal's wick and became a nebulous to the new formation before him.  Runes seared bright. It is ready. breathed the Raven.
-----------

Part One of Three
MAGIC COMBINATION USED FOR PHYSICAL CONSTRUCTION:
Seether + Malleus + Fire + Scrawl
coding by Tasha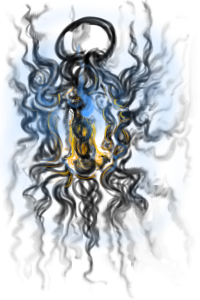 He spoke to Me in MADNESS
And I understood His REASON.


To be blind is not miserable; not to be able to bear blindness: that is miserable."  -- J. Milton

Jackal's Sense-Casting and Earth Element is in constant use as compensation for his blindness.  More can be found in his profile.